Home » Foto, Tip týdne
Stevens E-Tremalzo – Silák s dlouhou výdrží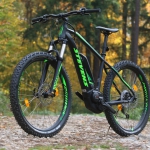 Zbrusu nový model horského elektrokola Stevens dostal název podle lokality v italských Dolomitech. Tento velmi oblíbený průsmyk se jezdí z obou stran, ale směrem nahoru to byla vždy výzva jen pro trénované. Zrovna s tímto ebikem by jste nahoru vystoupali jedna báseň a díky tlustým gumám by se vám po šutrech jelo bezpečně i zpět. Trochu jsme se nechali tím pojmenováním unést, ale tady prostě sedí.
U Stevens je připraveno pro rok 2019 celkem šestatřicet modelů elektrokol v šesti základních kategoriích. Letos se inovovalo docela podstatně, takže vstupní model E-Wave dostal nový rám, který měly dříve jen vyšší řady ebiků. Je nyní dostupný v novém designu v pánské i dámské variantě. Na něj právě navazuje novinka 2019 E-Tremalzo. Samozřejmě opět pro e-bikery i e-bikerky separátně.
Ebiky zaujímají stále větší podíl z trhu jízdních kol, v poslední době jsou to právě horská kola s motorem, které zaznamenávají největší boom. Stevens sídlí v Německu a tak elektrokola musí být chtě nechtě technicky dokonalá. Výhodou je, že i ten nejníže postavený model disponuje velmi slušnými parametry. Pro legendu z Hamburku, kterou můžeme Stevens právem nazývat, jsou právě elektrokola střední třídy velmi důležitá z hlediska prodeje. E-Tremalzo je podobně koncipovaný jako nový E-Wave, má však na rozdíl od něj baterii s vyšší kapa citou o 100 Wh.
Pevné XC biky určené do terénu jsou sdruženy do kategorie E-Hardtail. Připraveno je deset různých modifikací s pohony Bosch a Shimano, nic horšího Stevens nenabízí, žádné kompromisy v motorech, ani vybavení, jsou to zkrátka precizní mašiny vyrobené s německou důkladností. Kola jsou postaveny na robustních rámech a tlustých pláštích, se 120mm zdvihy vidlice. Daly by se tak dříve označit jako trailové hardtaily, v současnosti ale takhle koncipuje terénní elektrokola hodně výrobců, protože v terénu se s nimi takto více vyřádíme. Hendikep hmotnosti navíc lehce smázne síla motoru v nejslabším režimu. První pětice elektrických hardtailů Stevens je tedy čistě plusková – více trailová, na širších gumách, no a ta druhá levnější je o kousek krotší, i když o pláštích šířky 2.6″ můžeme také uvažovat jako o drtiči terénu.
Takže začněme rámem, ten bychom ani u ebiků neměli opomenout a stále brát jako základní kámen. E-Tremalzo dostal rám z vyšších řad, robustní konstrukci svařenou z materiálu Al 6061, který je v méně namáhaných místech dvakrát zeslabován. Jde o relativně lehký rám se speciální ebikovou geometrií. Vyššími řídítky pro bezpečné sjezdy, komfortní jízdu za všech okolností a extra zešikmenou horní trubkou. Celkově je tento ebike kratší, čímž se eliminuje delší zadní stavba, která je u elektrokol kvůli umístění motoru nutností. Horní trubka a zadní vzpěry na sebe navazují ve stejném sklonu. E-Tremalzo umožňuje velmi snadný nástup do sedla i celkovou manipulaci. V přední části je rám patřičně zpevněn. Vzpěry zadní vidlice jsou esovitě tvarovány.